"I think the measures can be tough"
It is alarming today not only in Europe, but also in the Pacific region, where the interests of the United States and China again clash. The Chinese Foreign Ministry has officially warned of a possible threat of a full-scale confrontation with the United States. Should we be wary of this "last Chinese warning"?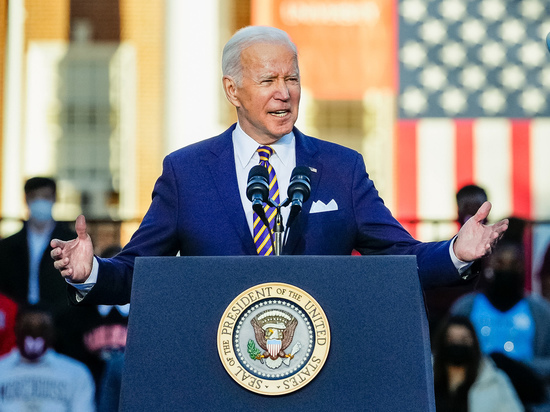 Photo: en.wikipedia.orgAbout what is happening today between the United States and China, and how Russia can take advantage of this, especially in the context of recognizing the DPR and LPR, we talked with Vladimir Petrovsky, Doctor of Political Sciences, a leading researcher at the Institute of the Far East of the Russian Academy of Sciences.
Chinese Foreign Minister Wang Yi, in a telephone conversation with US Secretary of State Anthony Blinken, noted that the statements of "certain officials" in Washington provoke an aggravation of relations between the two countries.
"China once again calls on the United States to take concrete actions to fulfill the commitments made by President Biden," the message reads.
"There is both competition and cooperation between China and the US, and we cannot simply use competition to define bilateral relations. Some US officials are advocating a long-term, bitter competition with China that is likely to escalate into a full-blown confrontation between China and the US. At the same time, Wang Yi stressed that Beijing is ready to build a dialogue with the United States "based on three principles: mutual respect, peaceful coexistence and mutually beneficial cooperation."
– Such a warning from China means that China is really concerned that the United States is trying to violate the so-called "red lines" of security. China outlined that these lines exist and there is no need to cross them. For example, don't support Taiwan too much. It was part of the agreements between the US and China. But now it is the United States that is trying to violate them for some reason. And, of course, there can be no other reaction in China than what we are seeing today. Moreover, I would even draw a parallel between how China reacted to the provocative actions of the United States, and how Russia does it.
– We see how Ukraine is being directly pushed to start armed actions against Russia. This is complete madness. But the situation is symmetrical. And yet Russia is telling the United States, China is telling the United States not to cross red lines.
– Quite right. But all this happens in the diplomatic plane. There are no military measures here. It is important that our countries are trying, as they say, to reason with the United States so that they do not go too far, where they do not need to go at all.
– I think that the measures can be tough. Of course, not bombing and shelling, but a serious reaction in the form of counter-sanctions, in the form of any restrictions on political contacts between the United States and China, may well follow. And, in fact, the United States should have expected this.
– Yes, they introduced a variety of sanctions, then they were partially canceled, partially restored. At the same time, China applied its own counter-sanctions, starting with the expulsion of objectionable persons. This is a double-edged path. You can go very far along it, but now the Chinese are bluntly saying: listen, we don't want to! let's come to our senses, stop and discuss everything that's going on. In essence, China is proposing to the United States to set up a dispute resolution mechanism. Naturally, there are contradictions and they will not disappear anywhere, but we must learn to discuss them. I think that makes sense.
However, the United States does not care, as far as I remember, they even violated the territorial integrity of China in the South China Sea several times.
There was a difficult situation – a "grey zone". When American warships entered the territorial waters that China considers its own. Many such conflict situations arose, and it should be understood that the United States itself repeatedly committed these violations. Well, do not touch China – and nothing will happen to you. No, you have to do something all the time and then wait for a response, China itself and blaming. It seems to me that this is also a matter of political mentality. Although, if, as you say, you want peace, perhaps you should refrain from such provocations? But for some reason the US is going the other way.
– Yes, of course. We remember the February 4 joint statement during Vladimir Putin's visit to China, in which Beijing supported Russia's demands for non-expansion of NATO. China has agreed that there is no need to expand NATO. This is a very important point of the common political philosophy for our countries.
– I think that in this case, China will just show maximum caution. He follows the position that the processes of resolving the situation around the armed conflict should be, first of all, diplomatic. In addition, China has repeatedly stated that it supports the Minsk agreements.
Unfortunately, yesterday the Minsk agreements died a long time…
– Yes, in fact. But I don't think China will suddenly take a different stance right now. It's not about what he says or doesn't say, but that the United States is preparing to impose new sanctions. This means that against Chinese banks that cooperate with Russia on commercial projects, they can also theoretically announce them. This is a rather difficult situation, including for China itself. Therefore, I think that in the near future we will begin to observe some sort of balancing act, a desire to maintain the status quo. I want to remind you that the same China has not yet recognized the belonging of the Crimea to Russia. China has its own policy: let everyone sit down at the negotiating table. So who is arguing with this? Let's! Russia is always ready for this. On the one hand, China's position is impeccable, but on the other hand, it is extremely politically cautious. In principle, China is afraid of the so-called secondary sanctions, which can be very painful for it. Nor does he want to spoil relations with Russia. He is like on a scale that can fluctuate many times not only during the day, but even within one hour.