Our special correspondent reports from Lugansk
The situation in the Donbas is escalating. The shelling from the Ukrainian side, as well as the return fire of the militias, does not stop. On Monday, MK's special correspondent in the LPR visited Luhansk railway station, from where evacuation trains to Russia depart for the third day in a row.
Photo: Lina Korsak
There are neither kilometer-long queues nor pandemonium in the station building. The administration made sure that the evacuation was as safe and comfortable as possible for the departing.
Those who have already passed the registration procedure are waiting for boarding, seated in metal chairs. Those who have yet to undergo this procedure are standing in front of the filing table. Next to the second line – to receive "lifting" money. All those who leave are entitled to a payment of a thousand rubles.
Most people answer my questions reluctantly or simply refuse to conduct a dialogue, and at the sight of a camera they turn away altogether. Many admit that they are afraid.
Yuri Sorona, an elderly man, says that he came to the station to see his wife off. They live with their wife in the Slavyanoserbsky district, where shelling, according to pensioners, practically does not subside. The poor woman is so frightened that, in the literal sense of the word, she has not slept for the third night in a row.
– This is simply impossible, – Natalya, interrupting her husband, barely restrains her sobs. – That year (2014 – Aut.) I somehow survived, I didn't leave, but I don't have the strength to live in constant fear anymore. She begged her daughter-in-law with her granddaughter to go too, but she refused. Oh, in vain, in vain … We have Bakhmutka nearby (Bakhmut highway P-66. – Aut.), we are all at a glance. I want a little – just to live in peace, so that they don't shoot. Here I go alone. And come what may…
Photo: Lina Korsak
According to the woman, she doesn't even know where it is she who will have to go.
– They said that now the documents will be drawn up, they will give out a thousand rubles and then they will tell where they will take them.
"Don't worry," Yuri reassures his wife. – They said that the hostel will be, and help will be provided.
– Why aren't you coming? I turn to the man. – It would not be so scary for your wife to leave.
– He will stay on the farm, – Natalya tried to answer for her husband.
– I will be here, – Yuri says confidently. – I'll take a machine gun and go to defend my Motherland.
– Do you want to join the ranks of volunteers?
– What is left? There is no way out. I went through Afghanistan and I know what war is. I don't feel like it, I work at a factory, but if everything goes like this, then I'll go. And let her go better, – the man gestures at his wife, – and she will be alive.
– I already said goodbye to my granddaughter, – Natalia bursts into tears again.
A video of the evacuation from the railway has been published train station in Luhansk: heavy backpacks
Watch related video
Evacuation point employees loudly begin to read out the names from the list of evacuees. My interlocutors rush there.
Before leaving the platform, people had already gathered in anticipation of the start of landing. In order to avoid crowds near the train, those departing are allowed to pass in groups of 45 people.
Those who have already been let through hurried to get into the cars. One of the employees of the railway station explains that boarding is based on the occupancy of the car, so it is still difficult to name the exact number of departing passengers.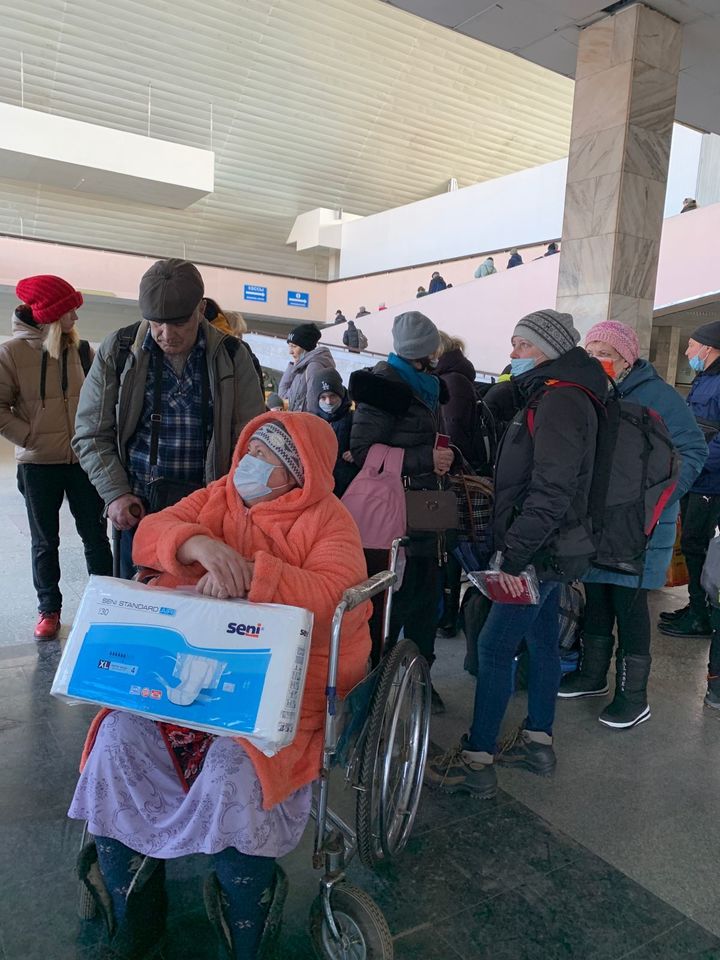 Photo: Lina Korsak
-Yesterday the train left completely full, not everyone who wanted to even could leave, – she shares. – Today, two trains are planned – at 12 and at 16 o'clock. He's not going straight to Russia – he's still on the road, we're gathering people in other settlements.
On a bench at the exit of the station building, an overweight young woman is trying to pacify the restless boy.
– You are you leaving too? – I'm interested in her.
"Yes, but what to do," she sighs doomedly, switching her attention from the child to me. "Just don't take pictures of me," the woman says excitedly, noticing the camera on my neck. – I'm afraid of them – not even for myself, for my mother and daughter.
– For whom? – I did not immediately understand.
The interlocutor, who did not even agree to give her name, said that she used to live with her mother and daughter on the territory of Ukraine. The terrible events of 2014 made her take a different look at the politics of the "square". After thinking for a while, the woman decided to go to fight for the Donbass.
– I asked my mother to move here, but she does not want to. Naturally, it soon became known where I had gone. The SBU (Security Service of Ukraine. – "MK") did not give them life. I haven't seen my elder daughter for eight years, I'm even afraid to call so that they don't come to them again …
Now the woman, fearing for her little son, is forced to leave the house. The husband is not allowed out of the republic.
– We were told that the train to Volgograd would go, – she clarifies. – Here we are with everyone there, and then somehow we will make our way to our relatives in Murmansk while we live with them. We only know how long it will take…
Persons evacuated from Donbass: disabled people, women, children with backpacks
See related photo gallery