"A spasmodic analysis of the situation is underway"
Russian and US Presidents Vladimir Putin and Joe Biden accepted the proposal of their French counterpart Emmanuel Macron to hold a summit on strategic stability and security in Europe. This was announced on Monday by the press service of the Elysee Palace. Experts told whether Moscow and Washington are set for dialogue, whether there will be any sense in the meeting and whether the leaders of the countries will be able to reach minimum agreements.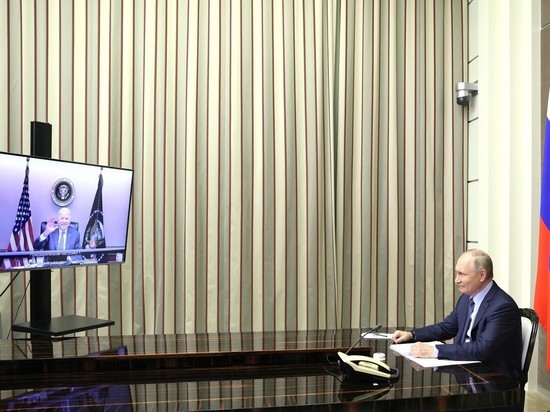 Photo: kremlin.ru
Emmanuel Macron, who spoke by phone over the weekend with Putin and Biden, suggested that they hold a bilateral "summit on security and strategic stability in Europe." The administration of the French leader noted that the heads of state agreed with this idea.
Later, the White House confirmed that the summit would take place if Russia did not "invade" Ukraine before that moment.
But Kremlin spokesman Dmitry Peskov noted that there are no concrete plans to organize a summit of the presidents of Russia and the United States yet, so it's premature to talk about it. "Of course, we do not exclude (possibility of contacts), – he added. – If necessary, of course, the presidents of Russia and the United States at any time can decide on contacts either by telephone or personal. That will be their decision."
The likely Putin-Biden summit will be preceded by consultations between Russian and US Foreign Ministers Sergey Lavrov and Anthony Blinken. Diplomats will meet on February 24. It is assumed that it is during these negotiations that questions for the heads of state will be prepared.
By the way, Reuters, citing an adviser to the President of France, reports that Joe Biden asked Macron to arrange a summit with Putin.
"It's hard to say whether the Russian Federation and the United States are set up for dialogue," German political scientist Alexander Rahr comments on MK. – Russian requirements for security guarantees are really very strict. The West understands that in order to prevent a war in Ukraine, it is necessary to have a dialogue with Moscow. However, no one intends to give up positions – namely, the withdrawal of NATO troops from Europe – so far.
Meanwhile, I do not see any attempts by the West to make any serious compromise, because for them this will mean that Russia is acquiring a zone of influence in Ukraine and around its borders, which, in principle, is what it is trying to achieve. Another question is that Western countries absolutely do not want this."
According to the expert, any compromise can be reached only if one of the parties is strong enough to force the other to accept it. If countries consider that they have enough power to threaten another state, the situation will not improve.
"Another question is whether the Americans want a security system in Europe, where Russia will be included," Alexander Rahr continues. – Here I doubt it. The Germans and the French periodically talk about a common space from Lisbon to Vladivostok. They would also be ready to move on to discussing a European security system based on the concept of the OSCE. The Americans, in turn, will consider the strengthening of this organization (which, of course, would be a compromise option) as the surrender of the positions of the North Atlantic Alliance.
Both in Moscow and Washington, a convulsive analysis of the situation and an attempt to understand how much each of the parties can retreat for the sake of compromise, and in what matters it is necessary to act decisively and assertively. I do not rule out that at some point Russia will still agree that only a part of its requirements will be fulfilled. Then the dialogue will begin."
According to Alexei Makarkin, vice-president of the Center for Political Technologies, professor at the Higher School of Economics, there are no guarantees that the parties will be able to reach an agreement at the Russian-American summit.
"However, there are chances to try to discuss security in Europe and in the context of this – the Ukrainian issue is there," says the MK expert. – It will be extremely difficult for the parties to agree, because there are at least two demands from Russia that are unacceptable to the West. The first is to stop the expansion of NATO to the East, the second is to renounce the military presence on the territory of the new members of the alliance. On the third point (missiles and exercises), dialogue is possible, though not easy either. I doubt very much that this will satisfy the Russian Federation.
Attempts can be made to put forward non-trivial ideas, but so far they are not very visible. For example, various experts are talking about the need to introduce a moratorium on NATO expansion. But even in this matter, a number of difficulties can arise. If it is introduced for a relatively short period of time, this will not suit Russia. A moratorium for a longer period of time will not suit the United States."
If negotiations do take place, they will be very difficult, because the countries do not have trust in each other, the political scientist believes. The current crisis has very clearly demonstrated America's confidence that it can take its time, because time is on its side anyway. Therefore, she can hold lengthy consultations and delay key decisions.
"As for Russia, everything is much more complicated here," the expert emphasized. – In the Russian Federation they often like to say that the West is about to collapse, but this, as we see, is not happening. Moreover, the populist movements, on which we had high hopes in our country, are themselves undergoing erosion. More moderate or, conversely, more radical currents stand out there. In addition, today they are much less of a problem for the Western elite than six years ago. Now the situation is more manageable.
At the same time, generations are changing in Russia. For example, for millennials, whose oldest representatives are already 40 years old, the topic of Ukraine or the topic of confrontation with the West is already less significant. The Russian government proceeds from the fact that if you wait and postpone this issue for some more time, then it will cease to be of interest to future generations at all. Such fears do exist. Therefore, the Russian Federation has a desire to solve problems as quickly as possible."
Published video of the evacuation from the railway station in Luhansk: heavy backpacks
Watch the video on the topic