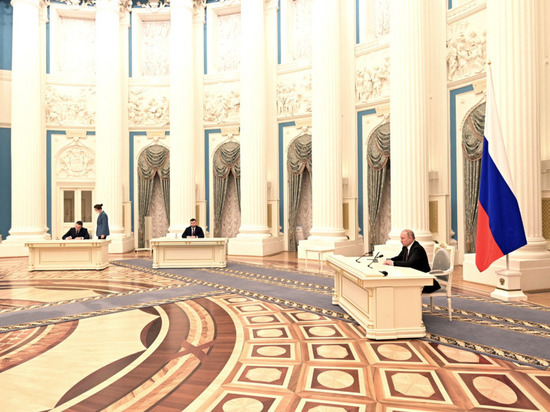 After Russia recognized the independence of the Luhansk and Donetsk People's Republics (LPR and DPR were recognized within the borders that are now actually established) in Western countries and NATO criticized this decision of Moscow, since it violates both international norms and the Minsk agreements.
From tomorrow, after the ratification of the treaties on friendship and cooperation between the Russian Federation and the LDNR, it may, on completely legal grounds, begin the entry of Russian troops into the Donbass, as well as the supply of any weapons to the armies of the people's republics.
US President Biden will sign a decree aimed at banning investment, trade and financing of the DPR and LPR;
The German Foreign Ministry called Russia's recognition of the DPR and LPR a gross violation of international law and a blow to all diplomatic efforts;
The British Prime Minister called this a violation of international law. London tomorrow will announce the introduction of a new package of anti-Russian sanctions;
The Danish Foreign Minister called the decision hostile and called for an end to the violation of international law;
The EU called it a violation of international law, promised to respond firmly and respond to Russia with sanctions;
The Chairman of the Latvian Seimas promised to initiate a resolution that the change in the status of the LDNR would never be recognized;
The Prime Minister of Poland called for an urgent meeting of the EU summit and the imposition of sanctions against Russia;
Serbian President Aleksandar Vucic said that the decision on Donbass completely changes the world order. At the same time, he stressed that the republic faced political pressure after Putin's decision to recognize the DPR and LPR – but 85% of the Serbs will be on the side of Russia, no matter what happens;
NATO Secretary General condemns the recognition of the LDNR and believes that this undermines efforts to resolve the situation in Ukraine;
The Italian Foreign Ministry said that this contradicts the Minsk agreements and prevents the crisis from being resolved through diplomacy;
The President of Georgia called Russian recognition of the DPR and LPR a repeat of the 2008 scenario.
The Houthis in Yemen supported the recognition of the DPR and LPR;
Abkhazia welcomes Russia's decision on Donbass;
South Ossetia supports the recognition of the republics of Donbass;
The President of Syria said that Damascus would be ready to recognize the LDNR;
A number of foreign sources report that following Syria, Venezuela , Cuba and Nicaragua also recognize the independence of the DNR and LNR.
The faces of Russian politicians on the recognition of the DNR and LNR: dramatic shots

See related photo gallery